Kerikeri
Kerikeri
Kerikeri is New Zealand's earliest European settlement and permanent mission station, often described as the Cradle of the Nation. Kemp House, built in 1821 beside the Kerikeri inlet, is New Zealand's oldest surviving wooden building. Next door is the Stone Store built in 1832-36 to house supplies for the mission that was established there. Recently it has been fitted out like a colonial store where visitors can browse among goods reminiscent of those sold in earlier days.
Kororipo Pa, once home to the famous Ngapuhi warrior Hongi Hika, is a five minute walk from the Stone Store. To see how Maori lived in pre-European times visit Rewa's village, a replica pa, a five minute walk across the footbridge by the Stone Store.
Walks in the Kerikeri district are numerous and include the 15 minute Manginangina Kauri Board Walk in the Puketi forest. This walk, meandering through a mature stand of kauri and swamp forest, is suitable for wheelchairs. Rainbow Falls, a spectacular 27m waterfall, is an easy, 1½ hour round walking trip, up the river from the Kerikeri Basin. Another hour long walk begins at St James' church and takes the walker to the Wharepoke Falls.
Aroha Island, an ecological learning centre 12 km from Kerikeri, offers a secluded nature experience, where on a guided tour, you can see live kiwis and a wide variety of other native wildlife. Parrot Place offers visitors the opportunity to see a variety of native and exotic parrots, including the Kakariki, the endangered antipodes parrot.
Arts and crafts flourish in Kerikeri. An Art Trail guides you to galleries, studios, and even a chocolate factory. Here you can meet local artists and crafts-people working. Visit the Proctor Library to check out what is happening in and around Kerikeri and remember to ask about The Centre for excellent theatre and music.
As with other areas of the Bay of Islands there are many beaches close to Kerikeri. Here you may swim, fish, kayak and sail. You can even take a trip on the SS Eliza Hobson, a restored steamboat, which takes you down the beautiful Kerikeri inlet. Golfers may visit the well known Kauri Cliffs Course at beautiful Matauri Bay, one of four world class courses in the area.
Historic Kerikeri, now the centre of a fruit growing district, is the largest and fastest growing town in the Bay of Islands. The Kerikeri Ecological District is a place where, thanks to the work of the Department of Conservation and the efforts of local residents, kiwis (the birds) live on private land within and around the town. At night, they can be heard calling to their mates.
---

Featured Kerikeri Events
---
Tour Kerikeri

Tour Kerikeri Area
Glenfalloch B & B
- Bed and Breakfast.
Set 3.7 km from Kemp House and Stone Store, Glenfalloch B & B offers accommodation with free WiFi and free private...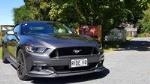 4-Hour Bay of Islands Private Mustang GT Wine Tour
- Wine Tour - Paihia.
Starting from $160.00 per person
.
Explore award winning wineries of the Bay of Islands and Northland in a luxury, late model Mustang GT...